[Since Wednesday night, when the commentary below first appeared, gold has broken down yet again, having traded as low as 1179 in after-hours action Thursday night.  The fact that a major 'Hidden Pivot' support at 1219.20 held for only a day is quite bearish going forward. Meanwhile, judging from the e-mail I received and comments posted in the forum, just about every person on earth has been expecting Comex August Gold to fall to at least 1150 for months, if not longer. If you haven't weighed in already, we invite you to post your own target in the forum, since someone is bound to be right. Earliest postmark with the correct call wins a trip to Six Flags Over Newark. RA]
Gold has plummeted anew, diving $54 to a low that missed a bear market target of ours by less than $2 on Wednesday. The intraday bottom at 1221.00 fell 1.80 shy of a 1219.20 target for the August Comex contract that had been disseminated to subscribers when the futures were trading $200 higher. So now what?  Because the target was an important one, a "Hidden Pivot" support that had been ten weeks in coming, we should expect a substantial bounce, even if it doesn't last for long.  By substantial, we mean $100 or more over a period of perhaps 5-7 days.  However, the more feeble the bounce, the more bearish the implications for the intermediate-term.  To be more specific, if the futures were to take out the 1219.20 support within the next day or two, or exceed it after having bounced no higher than $20-$30, that would be a very bearish sign going forward.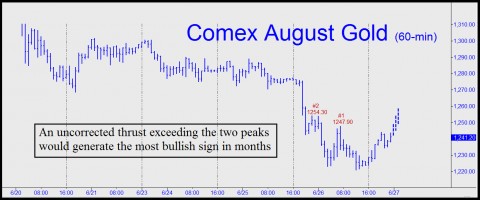 So far, the rebound has amounted to $23, most of it achieved in after-hours trading. This is a modest showing, to be sure, although hardly reason for despair.  The good news is that it would take just a $10.20 thrust above the so-far recovery high at 1244.10 to turn the intraday charts robustly bullish. Specifically, a print exceeding the 1254.30 peak labeled in the chart above would create a bullish "impulse leg" on the hourly chart, raising the odds that any subsequent selloff would be a correction rather than a resumption of the bear market in bullion begun nearly two years ago. Of crucial importance, however, is that the rally from here be uncorrected on the 60-minute chart once it is above the 1247.90 peak. To put it another way, once they've gotten past 1247.90, buyers must not pause for breath until they've exceeded 1254.30 by at least a single tick (i.e., 10 cents).  Were that to occur, it would be the most encouraging sign we've seen in Gold in many months. Bulls should keep their fingers crossed as Thursday's action unfolds.  Click here to sample Rick's Picks free for a week.