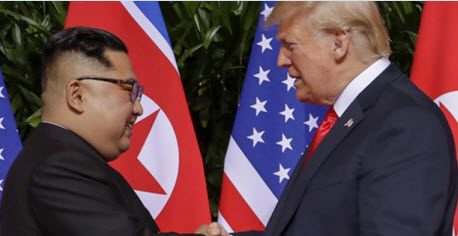 Hard as it would have been to imagine just a few years ago, we now have a photo of a U.S. President shaking hands with a North Korean dictator — and not just any dictator, but perhaps the looniest one the world has tolerated going back a few Kims. The picture above, courtesy of Fox News, ranks right up there with Neil Armstrong's first steps on the moon: Incredible.  Those cursed to live out the remainder of their lives suffering from Trump Derangement Syndrome may have been disappointed that the President, on meeting his most off-the-wall adversary, didn't try to high-five the guy.  If he had, and Kim Jong Un had returned the gesture with soulful aplomb, punctuating it perhaps with a sharp fist-pump, the deal would already be sealed and Mr. Kim's personal assistant would be making arrangements for his first Superbowl visit.
A 'Bad' Deal Is Extremely Unlikely
As things stand, we can only speculate on whether the chubby guy with the weird haircut has come to Singapore in good faith. We already know why Trump is there, and even TDS sufferers could not deny that his main purpose is to make a deal. Neither could they deny that a 'bad' deal for the West is extremely unlikely — not with Trump negotiating our end of it. Some TDS-afflicted commentators are apparently worried that Trump will limit North Korea's throw weight in a way that prevents (in theory) an attack on the U.S. while leaving South Korea, Japan and our other Asian allies vulnerable.  I'm laying 5-to-1 that no such deal will be made.  Whatever happens, each man will take the measure of the other. We can choose either to be comforted by that…or not.