For once, the mainstream press has greeted "good" economic news with the blunt skepticism it deserves. According to the Cambridge, MA-based National Bureau of Economic Research (NBER), the Great Recession ended in June of 2009, eighteen months after it officially began.  "So Where's the Party?" asked the Associated Press in a headline that topped Google's afternoon news roundup.  "[The recession] may be over," wrote AP reporter Jeannine Aversa, "but you won't be hearing any cheers from the millions of Americans who are struggling to find a job. Or are worried about the ones they have. Or have lost their homes. Or are behind on the mortgage."  Ms. Aversa even managed to extract the perfectly pithy quote from former communications worker Bob Johnson, who's been looking for a job for more than three years: "Every single one of the individuals who wrote the report needs a serious reality check," he said.  Our sentiments exactly.  This story is destined to rank right up there in the annals of foolishness with Bush II's declaration that the war was over in Iraq, and with official estimates that more than 74% of the oil spilled in the Gulf had either evaporated, dispersed or been absorbed.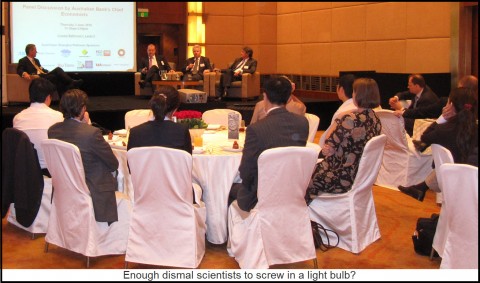 So what does the NBER have to gain by making themselves look like dummies in the eyes of tens of millions of Americans who are either unemployed, underemployed, or working harder than ever just to stay afloat? We  can only speculate that the eggheads who compile NBER's statistics got bored and decided to go out on a limb just for the hell of it. The bureau's economists, who come from academia, business and trade unions, have been tracking recessions for the U.S. government since 1910. They are the official arbiters of when each recession has begun and ended, and perhaps we shouldn't act surprised when they stretch the numbers a bit to bring a little drama and hope into our otherwise dreary economic lives. Or would we instead have them tell us that this recession will never end? That wouldn't sound very scientific, nor would it give politicians much opportunity to "do something" about it.
As Colorado Goes…
For NBER's part, they cautioned that their findings bear no relation to the current state of the economy and do not represent a forecast about the future. "If another downturn occurs anytime soon," the NBER told MarketWatch, "it would constitute a separate recession."  Such an outcome evidently would come as a big surprise to economists outside of the NBER. According to MarketWatch, "most" economists doubt the U.S. will sink into another recession. We wonder what they've been smoking, since nearly all of the evidence we've seen lately suggests that the Great Recession is about to take a turn for the (much) worse.  Just yesterday, for instance, there was a story that Colorado was facing a deficit of as much as $257 million in the current fiscal year and that the shortfall is set to quadruple next year. This is scary not just because we make our home in Colorado, but because the state is probably in better economic shape than most others. Even so, paring the deficit down to a still-unmanageable $257 million required such extreme measures as co-opting registration fees for medical marijuana dispensaries and cutting the Department of Corrections' budget sharply. Over the next few years, budget problems far more severe than Colorado's will need to be dealt with elsewhere at the state and local levels. What this implies is not merely the double-dip recession that economists say is so unlikely, but a continuation of the U.S. economy's slide into full-blown Depression.
(If you'd like to have Rick's Picks commentary delivered free each day to your e-mail box.)