(This week, Rick's Picks will be featuring commentary from some forum regulars who for the most part are mad as hell and not going to take it any more. Today's commentary is from Tom Waldenfels, a former broker and semi-retired management consultant who goes by the handle "fallingman" in the forum. Tom is skeptical, to put it mildly, that the recent election is going to change things. If the voters want real change, he says, it can only begin  with changes in the way they conduct their own lives. RA)
I'm writing this essay a few days prior to the election, but I already know how the vote's gonna turn out.  The new Congress will be composed of … pause for dramatic effect … Republicans and Democrats. Doh! "Meet the new boss … same as the old boss."  We just got fooled again. Yeah, the balance will have shifted some and many of the newcomers are unquestionably more honorable human beings than the people they'll be replacing.  How could they not be?  But, as Doug Casey says, "Political power tends to attract the worst people … the four percent of the population that's sociopathic."  It ain't like the Congress is goin' all Jimmy Stewart on us.  We'll be stuck with essentially the same crew and pretty much the same "leadership" in both parties that we've had, rump movements notwithstanding.  And how's that arrangement been workin' for us?  As we say in the south … "Not too good."  Rome will continue to burn.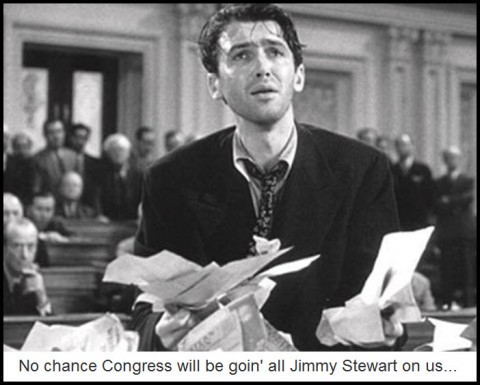 Corporatism will continue to rule the day.  Promises will continue to be made that can't be kept.  The Constitution will restrain no one.  Borrowed and newly conjured money will continue to be wasted on everything ranging from the merely idiotic and counterproductive to the truly criminal and completely insane.  That's until the whole system collapses, which will happen in an instant when it happens.
The Powers That Be
In the meantime, the Fed will continue to pour the whiskey, trash the clownbuck, and lie about everything from its true mission, to how much gold the U.S. holds.  The Military Industrial – Wall Street – Big Bank – Big Oil – Big Pharma – Big Medicine – Big Ag complex, with their wholly-owned media mouthpieces, faux-education establishment, and corrupt two-party front men, will continue to parasitize us.  The insider "elite" will be able to do damn near anything they want, continuing to concentrate their power and expand their influence, with no one being held to account or brought to justice.
If you missed the recent Dylan Ratigan clip on the crimes in progress in the financial world and the lack of any real response from the government, you owe it to yourself to take five minutes, if for no other reason than to watch him skewer that cretin, Chris Dodd.  Why GE and Microsoft allow Ratigan to speak the truth on their network is beyond me.
Regulating Toilets
Now, some of my "progressive" friends might contend that what I'm saying just proves we need to reform the system — promote campaign finance laws, get some good people in there, and pass some tough measures that prevent the abuses.  Hey, I don't disparage their motives, but it's not as if we live in some kind of regulation-free, anarcho-capitalist world and regulation is a sparkly new idea.  We literally have tens of thousands of laws and hundreds of agencies regulating everything from who can legally arrange flowers for a living to how much water a toilet can flush.
And yet, the Congress won't even authorize a real audit of the Fed.  Bernie Madoff and the Social Security Administration run Ponzi schemes with impunity.  (It took a private citizen, Harry Markopolos, to expose the crime in Madoff's case.)  JP Morgan is able to annex Bear Stearns, rape Jefferson County, Alabama, and suppress silver prices at the Crimex.  Not one peep.  Goldman managed to screw a whole country, Greece, not to mention its own customers, and they're busy working on the U.S. from the inside.  Countrywide. Lehman, and the rest of the mortgage lenders and securitizers engaged in wholesale fraud, and the regulators and regulations failed to rein them in.  Why?  Because the whole regulatory apparatus is just for show.  The government just pretends to protect us.  Sarbanes-Oxley … Dodd-Frank … the SEC … FDIC … CFTC … PBGC.  Ha, what a joke!  And don't even get me going on the FDA.  The fox has free run of the henhouse and is eating the chickens as we speak.
Collapse, and Soon
Look, the only real progress ever made in the political realm over the centuries has been toward greater individual freedom and smaller, more decentralized government, not toward bigger, more intrusive government.  And yet, the clamor to add more parasites to the Federal payroll and exercise more and more control continues.  The result?  Every day, it gets harder for honest people to do business.  Big government ain't workin'.  At least, it isn't working for me and you.  If you're one of the fascisti, it's working just fine.
I have a theory.  People will be willing to participate in the electoral charade as a way to express their anger and frustration only as long as their lives are passably normal.  The game will change once our daily lives are turned upside down.  I take this descent into chaos as a given, by the way.  To me, the fall of 2008 was merely a prelude.  I expect a full-out collapse, and soon.  For what's it's worth, I give it a couple more election cycles, and then the fury comes out sideways and gets expressed in more hands-on, up-close-and-personal ways.
That will likely take us in one of two eventual directions.  We either embrace a "strong leader" — a creation of the combine — who can restore order and "make America work again"… at the expense of all our remaining civil liberties.  Odds … maybe 90-95%.  Or, we simply abandon the effete and bankrupt central government and concentrate on making things work closer to home — and to hell with the empire.  Don't ask me for details.  I don't have any.  But doesn't the Republic of Texas have a nice ring to it?  Devolution.  Bring it on.
Not that the Feds are all that keen on losing their sovereignty.  Remember how hissy Lincoln got over the whole opt-out thing.  But if we're going to get free of the poisonous influence of the "money power," it won't be by taming them from the inside or battling it out with them in the streets.  This revolution will have to be peaceful and principled.  We'll have to withdraw our consent … our support … our cooperation … our business … and do it en masse.
What Can We Do?
Fat chance, right?  Mao famously said political power comes from the barrel of a gun, and maybe he was right.  He sure looks right on the surface.  Hence, the 95% odds.  But what about Gandhi?  What about MLK.?  Something as simple as non-participation in the form of a boycott can be pretty powerful.  What can we do?  Just this: reject the bankers' credit; tune out the pharmaceutical peddlers and avoid the absurd disease care system whenever possible; eat real food and tell the likes of Monsanto to take a hike; shun the polluted Mainstream Media; lay down arms in the endless "war" on nouns … cancer, drugs, terror.  Politely refuse to play.
If we have a chance of reviving the American ideal, it'll be by turning our backs and walking away from the sham political process and the corporatist noose, allowing a thoroughly rotten system to collapse of its own weight,  It's going to disintegrate sooner or later whether we like it or not.  It isn't worth saving and it can't be reformed.  The die has been cast.
That's a tall order to fill, given the dumbed-down population and the nanny-state free lunch we've gotten used to, not to mention our need for political saviors, but I'm grasping at straws.  From here, it looks like some sort of principled refusal to participate in the game any longer and a new self-reliance is the only hope we have.
(If you'd like to have Rick's Picks commentary delivered free each day to your e-mail box, click here.)