Although we see nothing scary in gold's so far 5.5 % fall from early December's record highs, we're monitoring the February Comex contract closely for the first hint that the selloff might be about to turn ugly. At the moment, that would require a drop of a little less than $50, to below 1317.40, without any intervening rallies lasting longer than a day.  With the futures trading around 1365 late Sunday night, there is obviously not much margin for comfort, since quick, $50 selloffs are not that unusual with gold currently trading at historical heights.
How likely is a swoon of that magnitude (which would turn our intermediate-term outlook for gold bearish)?  We estimate the odds at around 40 percent right now. However, using our proprietary Hidden Pivot Method to forecast price action over the near term, we expect no worse than 1321.20 before the February futures contract takes a bullish turn.  Granted, that's just $4 from our danger zone – too close for us to lay odds that the support itself will not be breached. But it would take more than that to signal danger, since, as we mentioned above, the plunge would need to occur without any intervening rallies.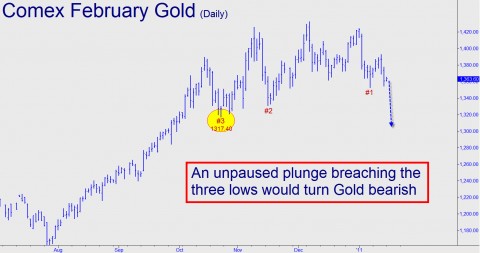 This rule helps us to sort out stage-managed selloffs designed to scare gold down to bargain levels from the real McCoy – i.e., nasty declines that ae likely to continue for months or longer. If gold's current correction is going to turn into a long, drawn-out affair, it should signal it in advance by smashing through the three piror lows shown in the chart without any big bounces along the way.  There is one other number to watch: 1313.10, since that it our worst-case target for the near-term, as well as our minimum downside objective if the higher hidden support at 1321.20 is exceeded by more than 50 cents.
Two Promising Stocks for 2011
By the way, if you're interested in seeing how Rick's Picks uses Hidden Pivots to analyze, forecast and trade stocks, indexes futures, options and commodities, please join us after the NYSE close tomorrow afternoon for a online demonstration. The format will differ from previous demonstrations in that it will include a detailed technical analysis of the shares of two resource-based companies that look very promising for 2011.  One is copper miner currently trading near $1 that was brought to our attention by a friend, a  Canadian analyst who told us about Western Silver before it tripled in price. The other is a company with a secure niche processing a mineral that is widely thought to be abundant but for which demand is about to explode beyond known supplies.  Click here to sign up for this free session.
(If you'd like to have Rick's Picks commentary delivered free each day to your e-mail box, click here.)