A few consecutive days of hard selling does not a bear market make, but it's heartening to see that stocks are still capable of deferring to reality – in this case, weakening corporate earnings. For what it's worth, the sharp decline has produced the first bearish "impulse leg" that we've seen on the S&P 500's daily chart since last November. This triggered a negative warning according to our proprietary Hidden Pivot Method of analysis. Although the weakness does not necessarily portend the onset of a major bear market, odds of this will increase if, for one, the E-Mini S&Ps smash the key low at 1332.50 recorded on March 6. This is shown in the chart below.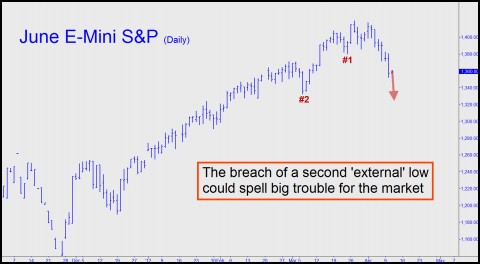 So why the selloff?  The headline on a commentary featured here earlier this week may explain it: Pumped Stocks Have Yet to Glimpse a GDP Slowdown.  Perhaps now they have, and investors with the foresight to have trimmed their sails should be feeling good about it.  Our own portfolio, such as it is, contains a short position in the QQQs – specifically, May 68 puts that were recommended for purchase a couple of weeks ago before the underlying index topped pennies from a 68.65 Hidden Pivot target. We used a conservative basis of 1.56 for the puts after subscribers confirmed having bought them for as little as 1.48. But with yesterday's nasty selloff the options fetched as much as 2.80 apiece, allowing us to take a partial profit that reduced the cost basis of the puts we still hold to nothing.  Incidentally, that's the goal of nearly all options plays recommended in Rick's Picks – to work into a position that has no risk but upside potential sufficient to at least cover the cost of a year's subscription to the service.
Win a $106 Subscription!
Speaking of paying for your subscription, if you are reading this, click here to be automatically entered in a drawing to win three months' access (worth $106) to all Rick's Picks features and services. A winner will be selected every Friday through May 4. You'll not only get commentaries like this one delivered to your email box each day for free, if you win you'll also gain entrée to two 24/7 chat rooms that draw traders and investors from around the world. You'll also be able to call up daily trading "touts" that are updated by Rick 'round the clock and which give precise forecasts and detailed trading guidance for putting on positions like the one in the QQQs described above. As mentioned, we occasionally try to put out relatively simple trades to help pay the $350 annual cost of an annual subscription. Although many of the trades are geared toward those who are familiar with our proprietary Hidden Pivot Method, occasional recommendations are intended to be easy enough for even novices to execute.  Here, for example, is the QQQ recommendation exactly as it went out to subscribers on March 19:  "A Hidden Pivot target at 68.65 is roughly equivalent (though hardly equal) to the rally target in the June E-Mini S&P that I've suggested shorting. Let's try it in this vehicle by buying four May 68 puts if and when DaCubes get within 0.07 points of the target."  At the same time, we also flagged a potentially important target in the E-Mini S&P that, like the QQQ forecast, came within an inch of topping precisely at our number.
Odds Are Against 'The Top'
Will the recent highs turn out to have been the elusive Mother of All Tops? Odds are against it, since the uptrend has been running pretty steady for more than three years. However, and as always, our strategy is to get short at each and every top with the potential to become an important one.  This we have done, diligently taking partial profits whenever things moved our way initially. This approach made it possible to record winning trades even when Papa Bear went back into hibernation, as he invariably did. We invite you to come into the Rick's Picks chat room to verify this with subscribers who actually made money on bear trades. You can do so by clicking here for a risk-free seven-day trial to the service, or by clicking on the link above to enter in the drawing for a three-month subscription.