Crikey! Although we declaimed here the other day that gold appeared to be carving out an important bottom, getting airborne could be bumpy.  One reason we "feel" a bottom is near is that it has been relatively difficult to stay long in gold.  Getting aboard has been no problem, of course, since traders can attempt it at any time, albeit not always with confident expectations of success. And so it was early Thursday morning, when we put out a "buy' recommendation in Comex June Gold in the dead of night, shortly before 5 a.m. Eastern.  The rationale was purely technical and involved placing a bid at the target of a corrective pattern we'd expected to reverse at exactly 1637.40 — $7 below where the futures were trading at the time. However, our Hidden Pivot support evinced no discernible bounce as the futures made a violently choppy descent toward an intraday low of 1631.30.  In the Rick's Picks chat room, a subscriber reported having made a few dollar trading from the wrong side of the move, but this feat – catching a falling piano, so to speak — would not likely have been duplicated by any but the nimblest of traders.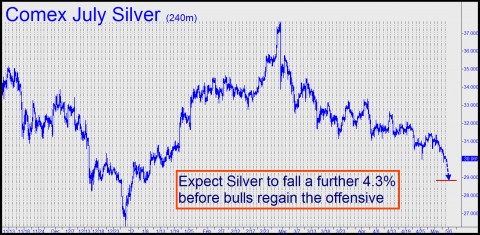 So how much lower might we expect gold to fall before a bottom is in? Our guess, worst case, is 1574.30 for the June contract. Using Thursday night's price of around 1637.40, that would represent a fall of approximately 3.8 percent from current levels. We say that would be a "worst case" target because gold looks pretty feisty on the hourly chart and could come alive at any time. Bulls have not ceded ground easily, and it would take a rally to just 1648.00 today  — $11 above current levels — for the good guys to regain the offensive short-term. Arguing against this is that Silver looks leaden. The July contract, currently trading for 30.115, looks primed to fall to at least 28.810, or 4.3 percent. Weighing gold's positives against silver's negatives, we'd bet on lower Silver prices in the days ahead. If Silver and Gold are both hitting their respective downside targets at around the same time, however, we would be aggressive buyers there, tightly stopped.
***
Win a Subscription Worth $106!
If you aren't already receiving these commentaries by e-mail, sign up now and you'll be automatically entered in a weekly drawing to win a three-month Rick's Picks subscription worth $106.  Click here to register. What do paying subscribers get that lurkers don't?  Plenty, including detailed daily trading "touts" and access to a 24/7 chat room that draws traders from around the world.