Wall Street Journal reviewer Walter Mossberg has finally come over from the Dark Side, acknowledging what PC world's early adopters have known for months – i.e., that Microsoft's latest operating system looks like a loser. While it's hardly unusual for Rick's Picks to put the knock on Microsoft, a company that couldn't innovate its way out a Glad bag, it's almost unheard of for Mossberg to do so. In the  past, he's played softball with the Redmond behemoth's products because, if you want to keep your job as a computer-product reviewer for a major newspaper, you don't pick fights with the largest software company in the world.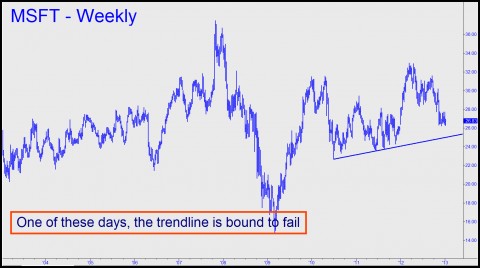 And yet, in a Personal Technology column published last week, writing with a boldness we've never before seen in the man, Mossberg said in effect that unless your computer is practically brand new, you'd have to be crazy to "upgrade" to Windows 8:  "To be sure," Mossberg wrote, starting in low gear, "people upgrading newer PCs, whose makers anticipated Windows 8 or have software patches ready to accommodate it, will likely have a much better experience. I learned—too late—that neither of the computers I was upgrading was on the list of models for which their manufacturers provided such patches. This may be because, in both cases, aspects of their hardware weren't up to snuff for Windows 8's more demanding requirements."  Oh, come on, Walter!  Up to snuff??  Don't blame it on your equipment. Just come out and say it!
Death's Head Warning
And boy, did he ever! Mossberg's next sentence should be affixed to every Windows 8 installation disk, like an FDA death's head to a pack of cigarettes: "The touch pad on my Lenovo ThinkPad X301 laptop can't be used to scroll in the new tabletlike Start Screen environment in Windows 8, or to perform certain Windows 8 gestures. And, on the HP TouchSmart 300, the touch screen isn't precise or sensitive enough to reliably perform Windows 8's touch gestures every time. Plus, the microphone doesn't work. Oh, and to get the HP to stop freezing, I had to perform a procedure that wiped out most of my installed software, including HP and Microsoft MSFT +1.40% programs."
Makes you want to run out and buy a copy, doesn't it?  Usually, Microsoft's operating-system updates either correct egregious problems in previous versions, or gratuitously change things so that older versions eventually become obsolete.  Business users long ago tired of this game, but with the release of Windows 8, which is designed to enable touch-screen functions, corporate customers have a better reason than ever to say, "No more!" And so they have, and for PC makers this couldn't have happened at a worse time. Because of the growing popularity of tablets, computer sales were plummeting before Windows 8 was released in October.  Now, however, consumers have an even bigger reason to put off PC purchases for as long as possible, since the new operating system features an interface that will be unfamiliar to everyone.  That's one reason we wrote in November that Windows 8 would prove to be the biggest disaster in the company's history.   Click here to read this trading "tout" in its entirety, including bearish price targets and a back-up-the-truck low where you could actually buy the stock without much fear.
To paraphrase Adam Smith, there's a lot of ruin in a company with a $60 billion cash surplus and an operating system installed on 400 million desktops. However, it's hardly inconceivable that a "Black Swan" could come along that changes the O/S paradigm sufficiently to render Windows, and perhaps even the Office suite, obsolete overnight. In any case, Microsoft's ability to exploit its near-lock hold on PC operating systems can only diminish over time as the company continues to follow, rather than lead, in virtually every area of innovation.