(The essay below has coaxed forth quite a response.  We urge you to jump into the discussion with your own thoughts.  RA) 
Interviewed by Fox's Chris Wallace recently, Senator Tom Coburn (R-Oklahoma) made quite a splash in the news, warning that America could suffer "Apocalyptic pain" within the next few years if it doesn't get debt under control. Coburn's heart seems to be in the right place, since he is one of the most vocal members of Congress in railing against bailouts that have pushed public debt into the cosmos. But we wonder whether he isn't a few steps behind the real world in worrying that our standard of living will plunge if America's budget deficit is allowed to grow.  For in fact, the standard of living has been plunging for several years, to the extent that the middle class can no longer afford health care; that even households with two professional incomes must hock the ranch to put their kids through college; and that Baby Boomers' retirement plans are either being pushed back by five or ten years or postponed indefinitely. Moreover, for the broad middle class, the situation is likely to grow even worse in the years ahead as strapped cities and towns are forced to raise taxes to cover fixed expenses – especially pension and health care benefits for public employees — that are difficult or impossible to shrink. Add in the fact that real estate valuations from coast to coast are due to be reassessed downward for at least the next few years, and you begin to see why the deflation that holds the economy in a death grip cannot be loosened no matter what countermeasures are employed.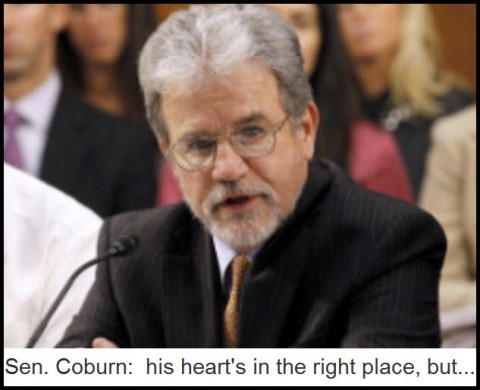 Sen. Coburn says that the U.S. has just three or four years to get its fiscal house in order before it faces the kind of austerity measures that have recently been imposed on Greece and Ireland.  Unfortunately, austerity is not going to save those countries, nor will it save any of the others, including Spain, Portugal, Italy, where it eventually will be tried. Bear in mind that the purpose of austerity is not to bring budgets under control, but to buy time before the rest of Europe collapses in a crisis of confidence that seems all but inevitable.  By putting the squeeze on the likes of Greece and Spain, the EU is providing cover for loan facilities that will keep the game going for yet a while longer. The U.S. is in somewhat better shape, but only superficially. Whereas Europe is committed to "saving" the euro because it is the only thing sustaining the dream of a transnational Europe, America has no such ideal or goal at stake when it acts aggressively, as it has, to trash the dollar.
A Sea of Deflation
Much as we respect Sen. Coburn, we'd advise him to save his breath when it comes to preaching austerity.  The problem is that, no matter how drastically we cut spending or raise taxes, it won't begin to cover future obligations that will continue to grow like topsy.  We are alluding mainly to outlays that usually get lumped together euphemistically as "unfunded liabilities" – in large part, Social Security, Medicare and public pensions. The sums involved have been estimated at $125 to $150 trillion – vastly more than could ever be recouped through politically driven remedies.  Looking at an even bigger picture, we see that those unfunded liabilities exist within a highly leveraged, quadrillion-dollar financial edifice that itself is collapsing. Under the circumstances, we might as well enjoy a final, inflationary blowout before deflation fully asserts its irresistible force.  We suggested in an earlier commentary that the government consider a one-year moratorium on income taxes. This "gift" would amount to about $2.5 trillion – just a drop in the bucket compared to the sea of deflation that has come to engulf the world's assets.
(If you'd like to have Rick's Picks commentary delivered free each day to your e-mail box, click here.)