Primer for Investing in Canadian Farmland [A while back, our good friend Tom McCafferty argued here that few investments are likely to outperform Canadian farmland over time. In the essay below, he explains how you can invest in Canadian farmland yourself.  Besides being a former farm realtor, Tom is the author of numerous acclaimed books on trading. His Options Demystified is a how-to primer we enthusiastically recommend to all who would seek to profit from puts and calls.  RA]
"Put your money in land, because they aren't making any more of it!" This is the most famous of the Will Rogers quotes on land or real estate.  When I think about burying some serious money for the long run, I think of farmland.  In a recent op-ed for Rick's Picks, I was very bullish on Canadian farmland.  My reasons: 1) Canadian farmland is very productive; 2) low cost on a global basis; 3) Canada is a stable country with a very adequate supply of water, energy and fertilizer; and 4) even the weather is cooperative as its growing season gets a little longer each year.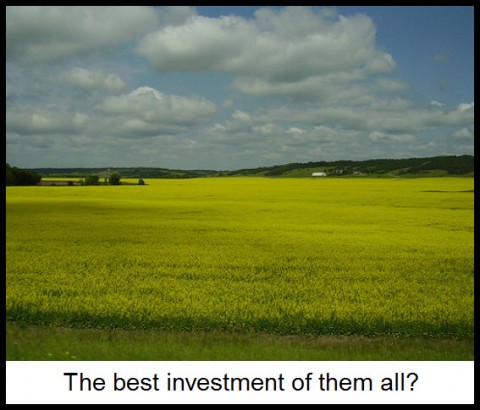 Some of Rick's readers ask for more details. When ever you invest in land as a non-resident, you need to check the local laws.  For example, when I was a farm realtor I had a group of Italians interested in buying a 2000-acre farm in Illinois.  Now Illinois has a law prohibiting non-resident aliens from owning farmland.  But it doesn't prohibit corporations from buying farmland.  So, we created a corporation and bought the farm.
How does this apply to buying a Canadian farm?  First, does Canada have any restrictions on how much land can be owned by non-residence aliens?  The answer varies by province, as it does in the United States by state jurisdictions.  Here's a summary of provincial land ownership laws in Canada:
British Columbia:  No restrictions on non-farmer, out-of-province or non-Canadian ownership.
Alberta:  Limits foreign ownership to 2 parcels with a limit of 10 acres.
Saskatchewan:  It also has the 10-acre limit for non-resident aliens, but there is a lot of talk about opening land purchases to anyone.
Manitoba:  Non-Canadians can purchase no more than 40 acres.
Ontario: No restrictions.
Next question is, how do you buy and farm the land if you are not a farmer?  Just as in most countries, there are farm realtors and farm management companies.  But most investors would probably prefer to buy into a limited partnership or acquire shares of a company that owns and manages its farmland.   Here are a few places to start if you're looking for farmland investment firms:
Hancock Agricultural Investment Group:  It is a Boston-based unit of Toronto's Manulife Financial Corporation and one of the largest owners and managers of U.S. farmland.  It first entered the Canadian farmland market in 2009 with the purchase of 1,100-acre cranberry farm in Quebec.  It manages almost 200,000 acres of farmland in the U. S.
Assiniboia Capital Corp.:  It is the largest farmland investment/management firm in Canada.  It manages over 100,000 acres.
Westchester/Cozad Asset Management:  This Illinois-based corporation manages approximately 70,000 acres in 11 states with a value of approximately $400,000,000.00.  It has plans for an office in Saskatchewan.
Bonnefield Financial Inc.:  It is Canada's first national farmland asset and farmland property management company.  It has private limited partnerships available and larger programs for institutions.
'No Problem' Selling to Aliens
The Canadian national government does not seem to have a problem with non-resident aliens owning, working and investing in its farmland.  It has participated in providing funding for some of the larger purchases and has provided technical assistance.
All of these companies have websites for more information.
Food, feed, fuel—that's what the world needs now and will need even more and more as the world's population grows and as new middle classes emerges in developing countries, working their way up the food/fuel chain.  There has to be some serious money in farmland in the decades ahead.
***
(If you'd like to have these commentaries delivered free each day to your e-mail box, click here.)